Artisan of the Month – Helen
Ever wonder why a jewellery crafts-person wants to specialise in memorial jewellery using ashes and hair? Over the years, people have asked us about our artisans, so we have decided to dedicate a post devoted to one of our artisans each month. We have asked a number of set questions to our artisans that we feel sure our readers will be interested in knowing more. 
Helen has been working with us for a number of years now, specialising in glass memorial jewellery and keepsakes.  
Experience/Qualifications?
Having been in the increasingly challenging NHS dental profession for over 15 years, I took the leap to re-train as a jeweller. I was always the child with her nose pressed up against jewellers' windows and my passion for all things sparkly drove me to pursue this as a new venture.
How long have you been creating memorial jewellery?
I have been making jewellery now for 20 years and specialising in memorial jewellery for the past 18 years which is my passion and has won me awards locally and nationally. I made the very first ashes into jewellery pieces commercially available in the UK which were featured on national TV together with worldwide press.
Why is memorial jewellery important to you? 
My sister lost her partner suddenly at 30 years of age and he was cremated however, his ashes were returned to her in a transparent container within a plastic bag. She was focussed on "bringing Tom home" from the funeral director but her shock and horror on receiving him back in this manner was like losing him all over again. I understood at that moment the need for something beautiful and tangible as a memorial to him and made her a bracelet containing his ashes which brought her some comfort and which she wore every day.
How do you ensure the quality of each piece you make?
I make everything myself in my workshop in Somerset. I have always been a perfectionist and am my harshest critic but to me, every piece I make is to memorialise a loved family member, friend or pet and deserves only the very best attention to detail and respect. I will never let anything be sent to a family that isn't my absolute best.
Each piece is unique because it is made by hand and ashes can be very different in their appearance and consistency. I once had an urn sent from Singapore and the bones of the pet dog were still intact and hadn't been cremulated (ground down into what we know as ashes) as here in the UK. The lady wanted a small intact bone set into a pendant. Hair also can be very different in colour and shaft width and can present a challenge if a specific look is needed.
Your Favourite Piece and why?
I am a bit torn between our stunning faceted round pendant because of the skill involved in cutting the hand-made glass to make it sparkle and our beautiful rainbow ring. The ring has proved very popular as rainbows mean so many things to so many people and each one that I have made has indeed meant something different to each customer. It is on-trend, sparkles in the light and really is a fabulous piece. I have more rainbow-inspired jewellery in the pipeline so watch this space!
Why do you choose the materials you do? (eg: are they to add quality/make it unique/for artistic reasons?)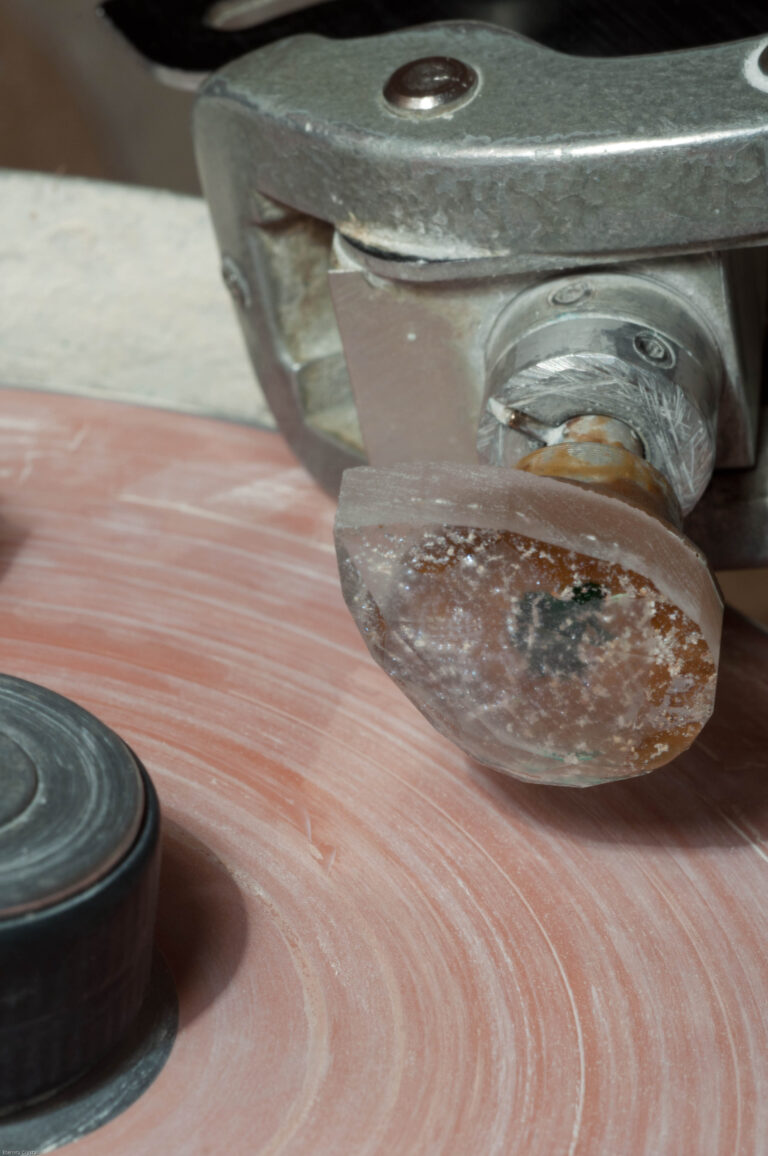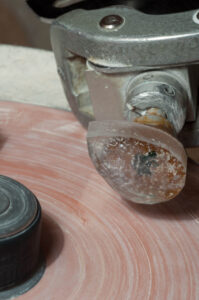 My design ethos is to make the most beautiful, meaningful piece I can which is discrete and tasteful. I only use precious metals and the ashes are set within the most suitable material for the function and longevity of the memorial. Rings take a lot of daily wear so to me, glass wouldn't be suitable however it is stunning in a necklace or bracelet as long as it is surrounded by metal to protect it. Modern enamels are very strong in thin section so suit use in rings. They also open up infinite design opportunities which would be limited by thicker glass. 
How do you incorporate the ashes/hair into the jewellery?
My anatomical background has stood me in good stead when working with ashes. I can identify bone fragments which I know are the person or pet and not something else included in the cremation. These bone fragments are refined to produce delicate fine particles and these are incorporated either between layers of glass or mixed with the enamel; both with a touch of magic sparkle to create a beautiful and delicate effect. Hair incorporation will very much depend on the colour and desired effect but because it burns away at the very high temperatures needed to make glass, can only be incorporated within our enamel which is made with less heat.
From Brenda our Customer Service Manager:
I have been working with Helen as one of our favourite artisans for years. She is great to work with and her quality is the very best. She is also a very warm and fun loving person who is totally committed to the feelings of our customers. We have never had a single complaint about her jewellery.
and finally,
We believe in supporting unique Artisans across the UK to bring you jewellery to honour your loved ones with one of a unique pieces. We want to shout about our talented artists, and this month we want to introduce you to Helen whose rings and necklaces are all made to order by hand. 
You can see Helen's whole collection of jewellery here: 
https://www.footprintsandwhispers.co.uk/our-designers/ashes-into-jewellery-by-helen/