Artisan of the Month – Vivienne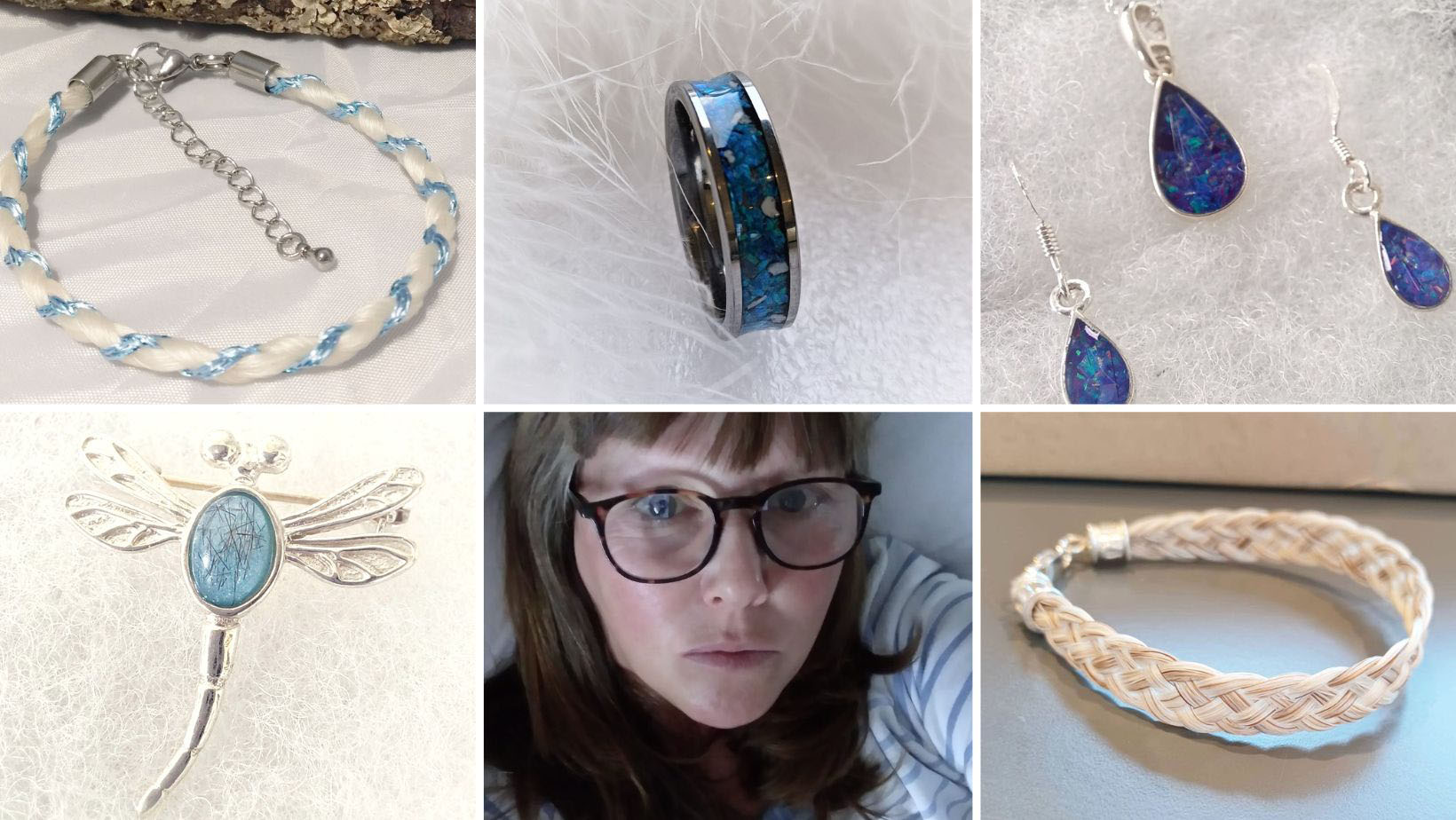 We are receiving wonderful responses from readers of our 'Our Artisan of the Month' Blogs. Thank you all very much.
Getting to know the crafts-person who is the creator of such unique and beautiful jewellery pieces, is proving to be a real treat and a great source of inspiration for someone deciding on their choice of memorial jewellery.
Experience/Qualifications?
My entire career was IT based from designing and writing computer systems to multi million pound project management.  I went on a sterling silver course after having cancer as a cheer me up gift to myself.
How long have you been creating memorial jewellery?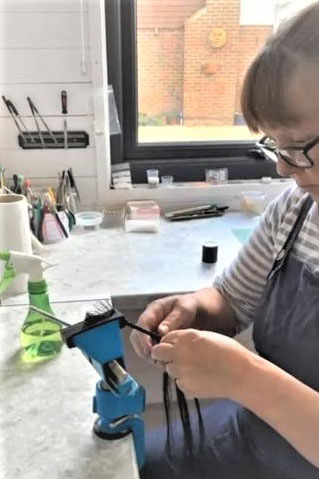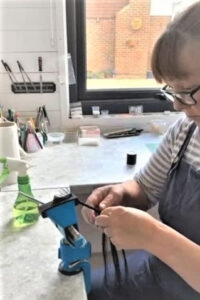 I made my first bracelet in 2016 when my daughters first pony passed away  – my business was born.
What got you into Jewellery making?
After cancer I wanted a completely different career from IT.  I'm very creative so jewellery was a good option, I had no idea how popular my work would be.
Why is memorial jewellery important to you? 
I often receive messages and letters of thanks from my customers, telling me what a comfort the piece of jewellery I have made them has bought, what's not to like about making others happy!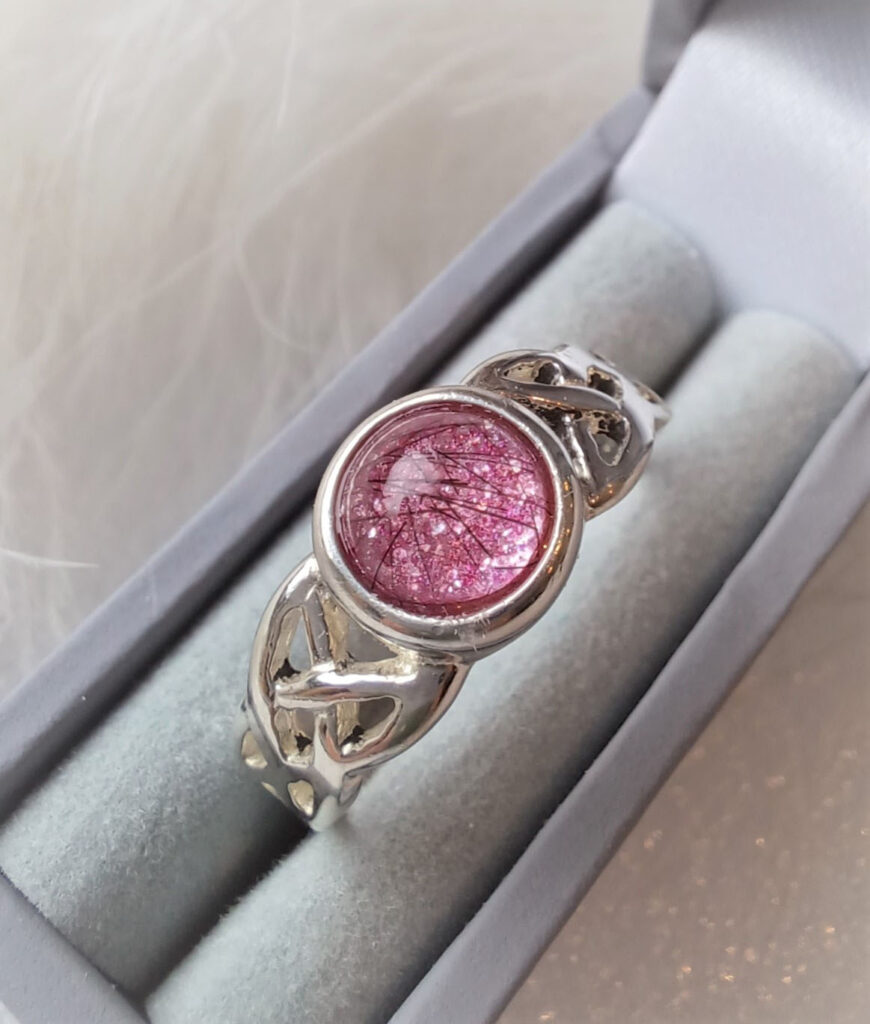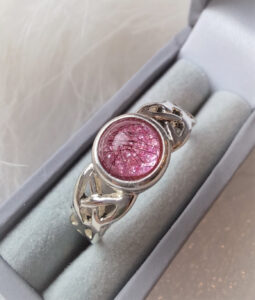 How do you ensure the quality of each piece you make?
I have a lady that does all my quality control and packing.  She's extremely critical, nothing will get past her.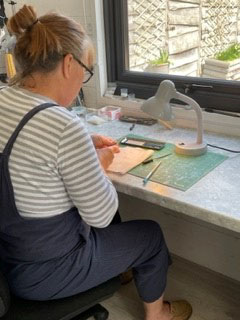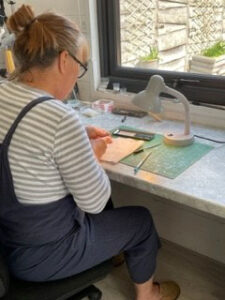 Each piece is in essence a one off because the hair, ashes, fur or horse hair are always unique and personal to the customer.
Your Favorite Piece and why?
My tungsten carbide rings, they are incredibly popular, and if you didn't know it, you wouldn't think they contain ashes.
Why do you choose the materials you do? (eg: are they to add quality/make it unique/for artistic reasons?)
I work with sterling silver as it's affordable to more people and tungsten carbide as it hard wearing and doesn't scratch
How do you incorporate the ashes/hair into the jewellery?
The hair or ashes are encapsulated in resin to make a cabochon, then I add a background shimmer colour or opal flakes depending on the customers preference.
and finally …
We believe in supporting unique Artisans across the UK to bring you jewellery to honour your loved ones with one of a unique pieces. We want to shout about our talented artists, and this month we want to introduce you to Vivienne whose jewellery and keepsakes are all made to order by hand.