Affiliate Registration

Becoming an Agent
Footprints and Whispers offer a superb collection of high-quality memorial jewellery and keepsakes, with a business model that is perfectly suited to enhance organisations that work closely with the bereaved.
No outlay ~ minimal setup ~ commission paid
It is very important to us that we deliver an outstanding service to all our customers and Agents alike. We are acutely aware that by having our link on your website, we need to ensure that we maintain our high standards in both quality of our products and our customer service.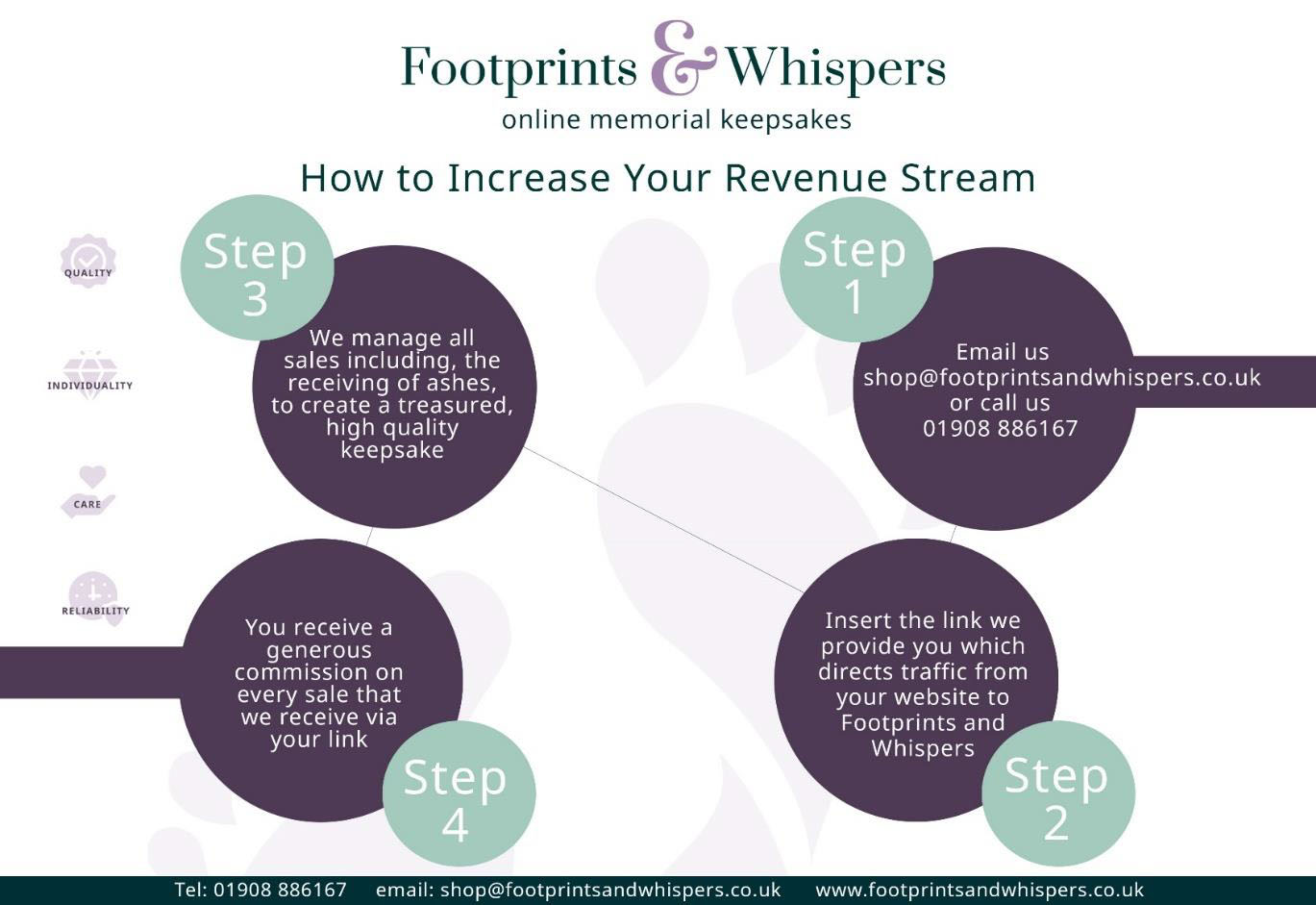 We pride ourselves on professionalism alongside our customer service. We devote a great deal of time talking to the bereaved, not only helping them decide on a keepsake of their choice, but also giving them the time to express their emotions and talk about their loss.
Working For You
We provide you with a link that sits within our Footprints and Whispers logo placed on your website. Thereafter, all sales made will be recognised by our system as emanating from your business and will attribute your share of the margin to your account.
Below are a few examples of how our logo could look on your website: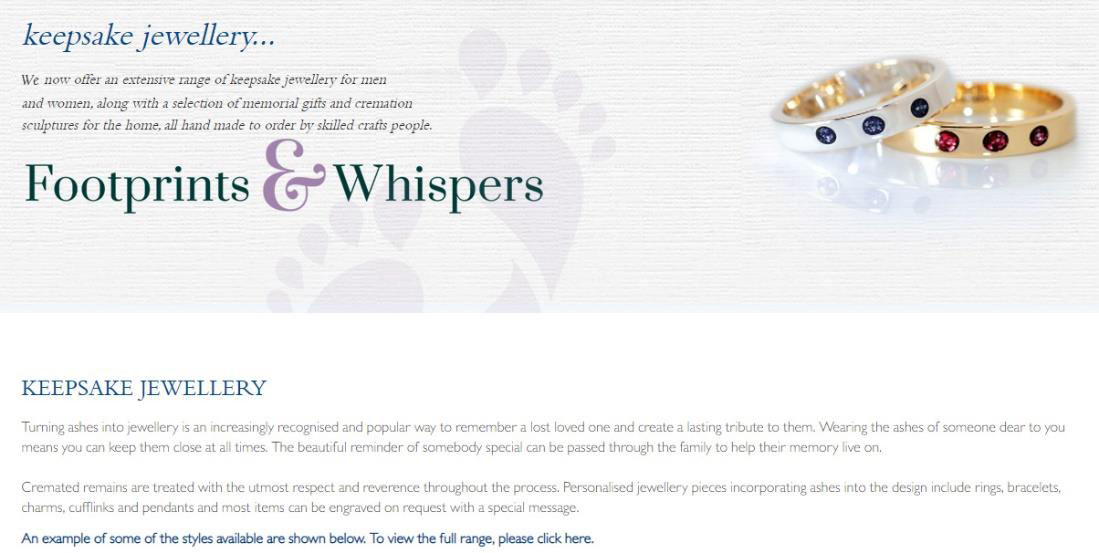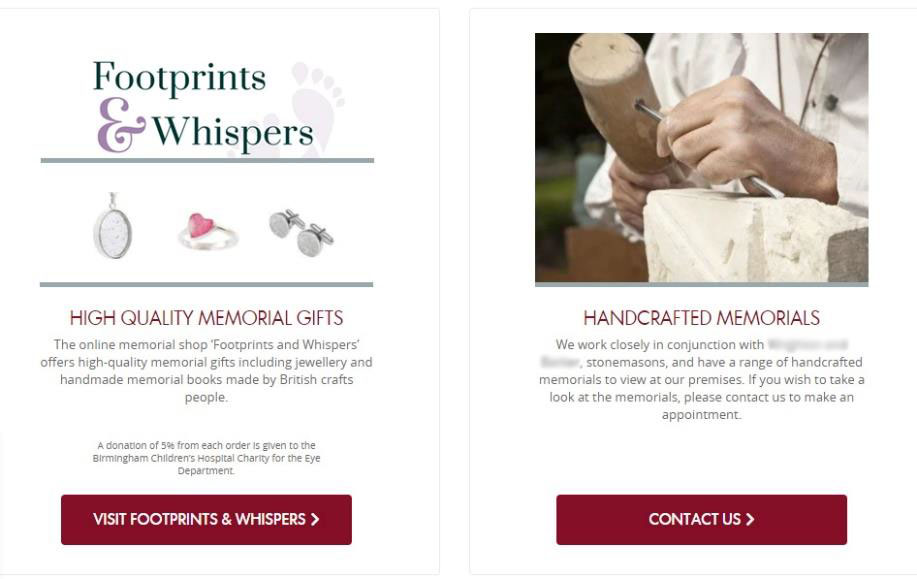 Commissions Earned
As an Agent, you will be able to Login to our shop to monitor your commission and see the potential commission for each of our items.
Typically, this would generate between £5 and £50 for you per item, depending on the retail price of the item and its attendant margin. Margins vary across our range quite considerably, however we always sell at the artisan's own retail price so that clients cannot hunt the internet for the same article at a lower price.
We are committed to increasing and refreshing the range of items that we offer. We also offer vouchers which we find are attractive for, say, a son to give to his recently bereft mother. In this case the margin you would receive would relate to the item purchased with the voucher.
When we calculate the gross margin per sale we donate 5% of that to Birmingham Children's Hospital Charity for the Eye Department.
Our Charity Partner
Footprints and Whispers is one of the two trading arms of L2D Limited, which is an abbreviation for Love2Donate. It is our stated objective to divert as much money to charity as possible. To this end, Footprints and Whispers has pledged 5% of its margin of every sale to Birmingham Children's Hospital Charity (BCHC) for the hospital's Eye Department.
This link gives you an insight into why we choose BCHC as our charity partner: Birmingham Children's Hospital – our Charity Partner
Other Benefits to You
You won't just be sharing the margin with us – other benefits include:
We manage Goods, Logistics and Administration
We take on the responsibility of handling remains for adding to the keepsakes, if required
You do not need to keep display cabinets, taking up valuable space
After instructing your web designer to add the link – we concentrate on the rest. However, it would enhance your income stream if you subtly mention Footprints and Whispers to your families should they enquire about memorial keepsakes.
How would you like us to communicate with you?
If you are interested in increasing your revenue by adding our Footprints and Whispers logo to your website, please register your business here so we can offer further information. If you would prefer to call us, please ask for Brian or Clive: 01908 886167 or email shop@footprintsandwhispers.co.uk.